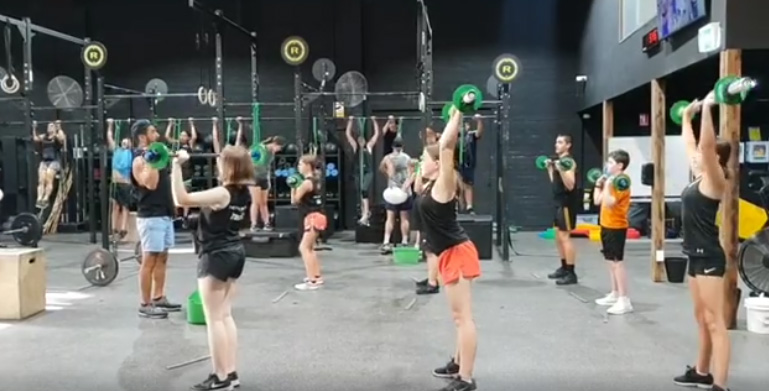 11-15 year olds.
We are excited to welcome back our CrossFit Youth classes starting next Monday 6th and Thursday 9th of May for an 8 week block. This program is for all kids, big, small, athletic, non-athletic and even for those who hate team sports. The CrossFit Youth program challenges the child in a safe and encouraging environment and the skills learnt will transfer to all areas of life not just fitness.
The CrossFit Youth program teaches proper form and mechanics in functional and athletic movements in classes that are different every session with a focus on FUN. Our program teaches children to love fitness by making fitness fun and accessible for all.
Whether your child is a natural athlete or not, we will cater to his or her ability, allowing each child to experience challenge and reward every class.
CrossFit trains children to be generally physically prepared, encompassing all ten general physical skills (strength, balance, coordination, flexibility, stamina, speed, agility, power, cardiovascular endurance, and accuracy) and in doing so prepares them for the demands of life. Not only that, a vast body of research indicates that exercise is beneficial to cognitive function, which means the program can have a positive impact on children's academic achievement.
Our CrossFit Youth Sessions include a dynamic warm-up, skill development and a workout. Each class is approximately 45 minutes long. We keep your kid fit, agile, flexible and healthy in body and mind but the first goal is to get them having fun with their exercise.
All our coaches are highly experienced and are 'working with children' accredited. We are a family run gym that promotes total health and wellness for all ages.
COST: $192 for 1 session per week or $364 for 2 session per week. (8 weeks). This includes a CrossFit Tank. *Enquire about the 'sibling discount'. ✅ We are a registered Active Kids Provider- Claim Your $100 Active Kids voucher.
WHEN: Starts Monday 6th & Thursday the 9th of May 2019.
TIME: Monday's 5:30PM & Thursday's 5PM
Email info@theathleticbuddha.com.au to book your spot or call Daniel on 0451932013.