Gym & Kids Club in Concord West, Sydney
At The Athletic Buddha
we believe that physical fitness
and your mental health play a big
part in living a more fulfilling
and inspiring life.
Our aim to is to make training a part of your everyday lifestyle and apart from keeping you interested and wanting to come back for more of the physical exercise, we will show you the techniques and methods that will help you unlock any mental blocks you may have towards training or healthy living.
Testimonials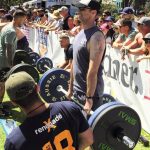 Nigel Essex
"From the first class the coaches Dan, Patch and Meg recognised how little I knew and worked with me to build my confidence and strength. They were great at knowing when to push and when I needed to go at a slower pace. I'm still not the biggest guy in the gym, or the strongest and never will be. But I'm a great role model at home for my kids and at work for my team and it feels good to know I can keep up with my 10 and 8 year olds for a while yet or take on whatever physical challenge comes up – Spartan Race, Bay Games, Bobbin head cycle classic, daily push up challenge, CrossFit Open – whatever it is these days I am up for it.  You should be really proud of all you've achieved." – Nigel Essex

Pinnacle Spine & Sports
As health professionals ourselves we know the importance of training in such a way that is not only functionally safe, but effective in improving strength & stability throughout the frame. Several of our team here train at The Athletic Buddha, and we couldn't recommend their services highly enough. These guys care about making sure you train correctly so you can remain injury free (and not needing to end up walking through our doors!) Keep up the great work guys. 🙂

Sarah Dalli
Best Crossfit gym in the area! Variety of classes extending outside of crossfit including bootcamp, boxing, body shred, and yoga. Everyone is so friendly and welcoming. Really good community vibe. The gym is owned and run by a really nice husband and wife. The trainers there are so great – they take the time to talk through the movements, ensure your technique is correct and cater for beginners and advanced and all fitness levels.

Tanya Curtin
This is the best gym I've ever trained at and I'm super happy here. Patch, Daniel, Maddie and Meg are awesome trainers and help all of us to stay motivated, get stronger and look after us to prevent injury. Everyone who comes to the gym is friendly and supportive – no big ego's and no matter what your fitness level is you will fit in.
Receive the latest news,
product updates and offers
right to your inbox!